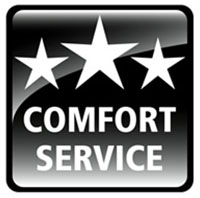 Minox Comfort Service är en 30-årig service som garanterar en köpare av en Minox-produkt 30 års service. Av de produkter som omfattas av garantin står Minox för materialkostnader, även efter tiden för den normala garantin. Detta betyder att, exempelvis, en produkt som omfattas av 10 års garanti täcks i ytterligare 20 år av materialkostnader. Med Minox Comfort Service, efter den ordinarie garantitiden, står Minox för materialet vid service.
Minox Comfort Service omfattar eventuella tillverknings- eller funktionsfel på modellerna:
Kikarsikten i serierna ZA3, ZA5, ZA-i, ZE-i och ZP TAC
Handkikare i serierna APO HG, HG, BL, BD, BV, BF och BN
Tubkikarna MD 50, MD 62, MD 60 Z och MD 80 Z
Monokularet MD 7×42 C
För att ta del av Minox Comfort Service ska en produkt registreras hos Minox senast 30 dagar efter köp. Minox Comfort Service omfattar inte väskor, remmar, okularmusslor, putsdukar samt andra eventuell tillbehör som medföljde vid köpet.
Villkor på engelska:
Dear valued customer,
Congratulations on the purchase of this high-quality optical product from MINOX. With this purchase, you have chosen a brand-name product of highest quality. We warmly thank you for your confidence in our product and would like to offer you a special service with exclusive benefits. On top of the statutory warranty period, you can immediately benefit from the advantages offered by our customer-oriented MINOX Comfort Service.
Please note that the following warranty and service terms are valid from 01 August, 2012 and will replace the previously existing and otherwise mentioned conditions. These are valid outside the US and Canada.
Your benefits:
More assurance and service for your MINOX product even after the statutory warranty has expired: damages to your product will be remedied either through repair or replacement* on a goodwill basis. Completely uncomplicated and fast. After the statutory warranty period has expired, MINOX will cover the material costs for all mechanical and optical components. Only the labour costs will have to be covered by you. This service will be offered to you for 30 years after the date of purchase.

Take advantage of offers, promotions and information available exclusively for MINOX customers in our online customer area (e.g. gift vouchers).

Upon request, we can send you the latest information via newsletter to any part of the world. Read more about this on our website or call our customer service.
Register your MINOX product right away to take advantage of the
MINOX Comfort Service. It's worth it!
* MINOX will decide in each individual case whether a repair or a replacement of your product is required. Cosmetic damages or blemishes which do not affect the functionality of your device are not covered in this service. Excluded are also wilfully or grossly negligently caused damages.
Product registration in 3 easy steps:
Visit our MINOX internet site at:
Register your MINOX product by carefully following the user navigation on our website. After you have successfully registered your product, you will automatically receive a short confirmation per email. If your product is in need of repairs, please send this confirmation along with the original sales receipt to our MINOX customer service.
Have any questions?
Our customer service would be glad to help you. Please give us a call at Phone:
+49 (0) 64 41 / 917-777
The address and other contact details of your local MINOX representative can be found at
Thank you for your trust and we hope you enjoy your new MINOX product!
Ladda ner Minox Comfort Service i PDF-format.
---
Se även: