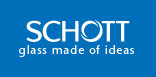 Schott AG är ett tyskt företag specialicerat på glas och optik. I mer än 125 år har företaget utvecklat optiska element och produkter i glas för olika ändamål. Företaget som ingår Zeiss-koncernen har sitt säte i den tyska staden Mainz. Det är Scott AG som Minox valde att samarbeta med då High Grade-serien utvecklades. Förutom optik har Schott en mycket stark ställning inom tillverkning och utveckling av farmaceutiska produkter, solfångare, spishällar, kosmetik, medicin, dentalprodukter, elektronik, ljus och mycket mer.
Kort historik om Schott AG
1884
Otto Schott, Ernst Abbe and Carl and Roderich Zeiss found the Schott & Associates Glass Technology Laboratory in Jena, Germany.
1889
Ernst Abbe founds the Carl-Zeiss-Stiftung (Carl Zeiss Foundation).
1891 / 1919
The glassworks in Jena become a foundation-owned enterprise. Its sole owner is the Carl-Zeiss-Stiftung.
1900
Export share already about 50%.
1927 / 1930
The first subsidiaries: Farbenglaswerke Zwiesel und Pirna (1927), Deutsche Spiegelglas AG (DESAG) in Grünenplan (1930), Glaswerk Mitterteich (1930).
1945
"The Odyssey of 41 Glassmakers": After the end of World War ll, American troops bring the management and selected experts from Jena to West Germany.
1948
The original factory in Jena (Soviet zone of occupation / GDR as of 1949) is expropriated and converted into a state-owned company (VEB).
1952
The foundation company is rebuilt in Mainz (Federal Republic of Germany) under the direction of Erich Schott, the son of the company's founder. Mainz becomes the headquarters and main production site of the SCHOTT Group.
1952
Mainz becomes the headquarters and main production site of the SCHOTT Group.
1954
First production subsidiary outside of Germany (Vitrofarma in Rio de Janeiro, Brazil).
As of 1963
Establishment of production plants and sales offices in Western and Southern Europe. A sales office is opened in the U.S. (New York City). SCHOTT grows to become an international group of companies.
1966
First sales office in Asia (Tokyo, Japan).
1969
First production plant in the U.S. (Duryea, Pennsylvania).
1974
First production plant in Asia (Penang, Malaysia).
1989
The Otto Schott Research Center in Mainz is put into operation.
1991 / 1995
With the reunification of Germany, SCHOTT in Mainz takes over the ownership of the old main plant in Jena. The factory is renovated, restructured and integrated into the SCHOTT Group.
As of 1993
Establishment of production plants and sales offices in Eastern Europe.
2002
First production plant in China.
2004
Conversion of the foundation enterprise to the corporation SCHOTT AG. Its sole shareholder is the Carl-Zeiss-Stiftung.